They host 3 of the most famous summer destinations in the world, Santorini, Mykonos and Paros. They also host some of the most enchantic holiday destinations ever, Naxos, Koufonissia, Ios, Kythnos and Amorgos.
We are talking about the Cyclades, the group of islands that gathers the majority of tourists in Greece. Why? Because Cyclades islands are so many and so different that no matter what you like, you will most definitely find the ideal island made just for you.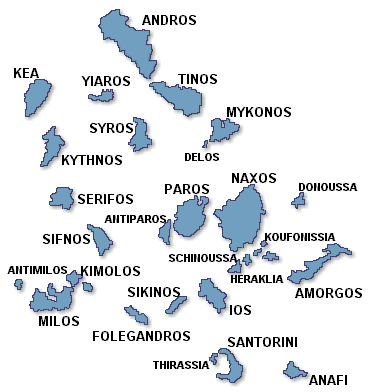 Whether you are a party animal, a sports enthousiast or a nature lover, whether you are visiting with your family or alone, there is always one or more islands in the Cyclades for you.
Their distinct white-washed houses, the fantastic beaches, the mostly barren landscape and the friendly and outgoing people are among the most vivid characteristics that will impress you the most and provide the "couleur locale". It is this very set of characteristics that makes the Cyclades perhaps the most famous among all the other Greek islands groups.